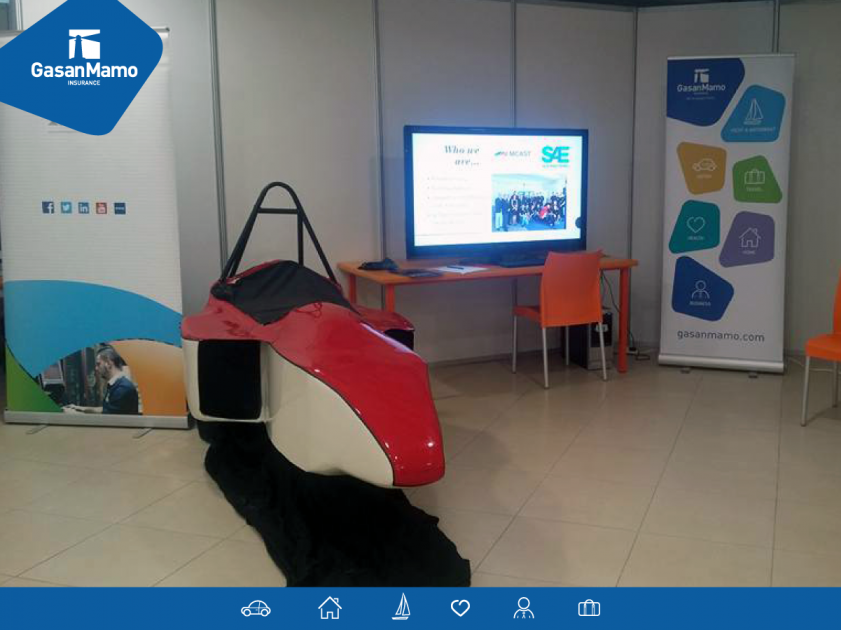 With the company's constant effort to support and nurture local talent, GasanMamo Insurance—Malta's leading insurance company—is proud to announce its sponsorship of Skunderija Dinamika in their effort to develop, build and competitively race a Formula SAE® vehicle. Founded in 2014 by a group of over thirty enthusiastic MCAST students, Skuderija Dinamika is a collective of like-minded individuals with a passion for engineering and automotives.
"GasanMamo are very pleased to sponsor this wonderful project, which is engaging young minds in such a creative way" said Julian J. Mamo, Managing Director at GasanMamo. "We feel a certain responsibility to support local talent, both locally and internationally."
What is Formula SAE®?
Formula SAE® is all about extreme engineering! Organised by SAE International (previously known as the Society of Automotive Engineering), Formula SAE® is a fun but challenging design competition, bringing students from across the globe together in an environment which tests their ingenuity and problem-solving abilities. Students act as a design team that have to manufacture a small Formula-style race car. The competition gives students the opportunity to get out of the classroom—and their textbooks—and apply their learning to real work experience in research, design, production, testing, marketing, and management.
"The current sponsors put their belief in us and we are delighted to collaborate with companies that believe in our goals and making our mission a reality" said Matthew Fenech, President of Skuderija Dinamika.
About Skuderija Dinamika
Skuderija Dinamika recently completed electrical and electronic work on their prototype race car, and will proceed to test the engine this coming August. During May they held a car show to raise funds for the project. GasanMamo's sponsorship will be used to procure components essential to the development of the prototype race car. Skuderija Dinamika also participated in the MCAST Expo last weekend, were they showcased all their work and their experience with all those that attended. www.gasanmamo.com
About GasanMamo Insurance
Able to trace its roots all the way back to 1947, GasanMamo Insurance is one of Malta's leading insurance companies providing competitively priced and a different range of insurance cover types, from car insurance and boat insurance to home insurance and health insurance for both personal and commercial clients through the Maltese Islands. The company recognises the importance of customer value and ensures that it maximizes value by keeping premiums as low as possible, yet maintaining the correct balance to provide service that meets the standards set by the company. Corporate Social Responsibility makes a big part of how GasanMamo Insurance goes about business. The company believes that giving back to people and communities is their duty and serves to enrich lives across the board.