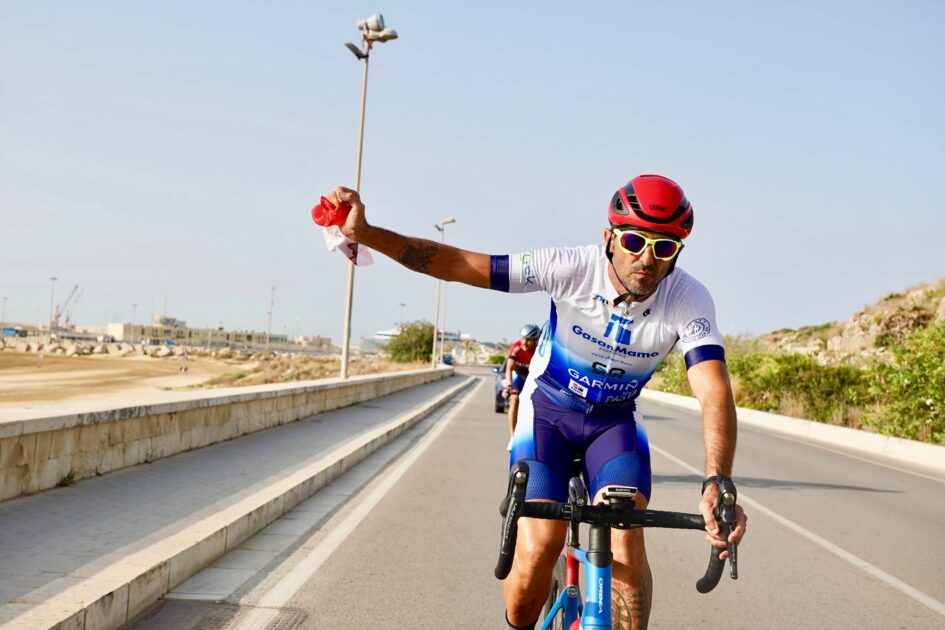 Fabio Spiteri Ultra-Athlete cycled around Sicily in 47 hours 41 minutes
Malta's leading ultra-athlete Fabio Spiteri once again broke records when he recently completed his epic challenge of cycling around Sicily in 47 hours 41 minutes, raising € 42,000 for animal sanctuaries.  Fabio Spiteri, who holds the national record of double and triple ironman, is the second fastest person to complete this gruelling challenge.  Fabio is a passionate animal lover and advocate for their welfare undertaking this challenge with an ulterior motive in mind; that of raising much needed funds for the many animal shelters around Malta and Gozo.
Fabio Spiteri conquered his challenge and collected over € 42,000 for the animal shelters
And even after the cycling challenge was behind him, Fabio Spiteri worked tirelessly to raise awareness and shine a light on these shelters.  Fabio was supported throughout all this by GasanMamo Insurance.  All staff at GasanMamo organised a dress down day to collect funds and help Fabio Spiteri in his continuous effort to collect the necessary funds for the animals.
About GasanMamo Insurance
Able to trace its roots all the way back to 1947, GasanMamo Insurance is one of Malta's leading insurance companies providing competitively priced and a different range of insurance cover types, from car insurance and boat insurance, travel insurance  o home insurance and health insurance for both personal and commercial clients through the Maltese Islands. The company recognises the importance of customer value and ensures that it maximizes value by keeping premiums as low as possible, yet maintaining the correct balance to provide service that meets the standards set by the company. Corporate Social Responsibility makes a big part of how GasanMamo Insurance goes about business. The company believes that giving back to people and communities is their duty and serves to enrich lives across the board.