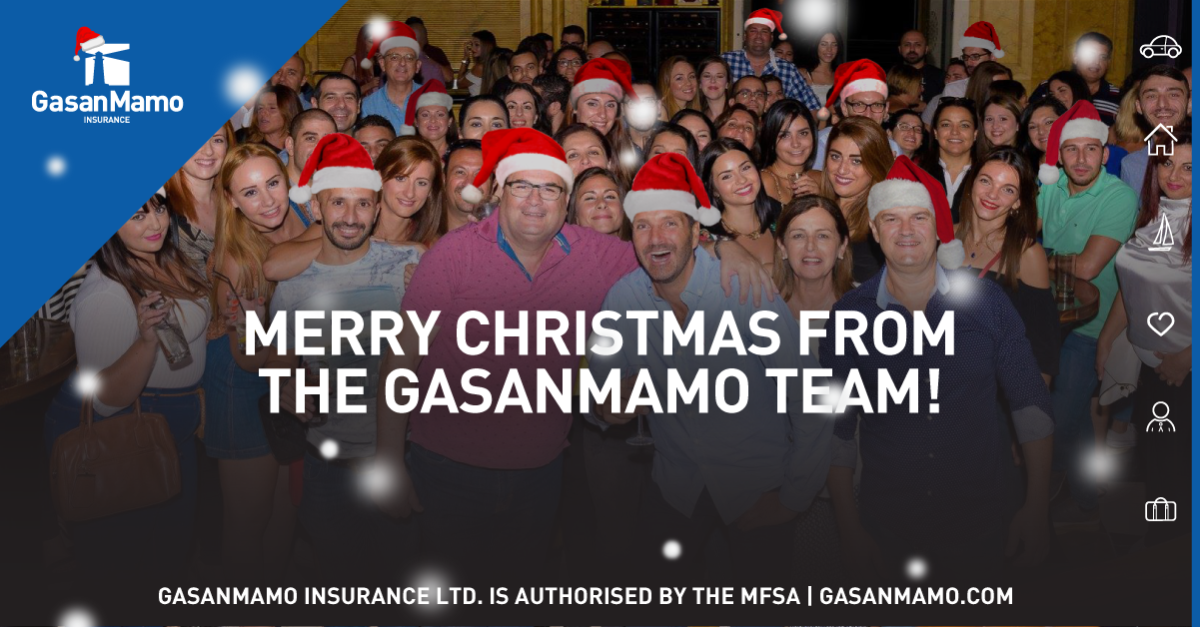 It is hard to believe that this year is almost gone. It seems like only yesterday that we were still enjoying those hot summer days. We've passed through a rather orderly Autumn, and as we come to December, it's always a good opportunity to take stock of the past year. Undoubtedly 2017 has been another exciting year for GasanMamo Insurance, both in terms of events, being internal or external, and corporate social responsibility initiatives with the main purpose being to address social and environmental issues and create positive change.
Corporate Social Responsibility is a big part of how GasanMamo Insurance goes about business. We believe that giving back to people and communities is our duty and serves to enrich our lives across the board. We started the year by welcoming Bjorn Formosa, founder of the ALS Foundation Malta, at the company's head office in Gżira.  This courtesy visit was welcomed by all the staff at GasanMamo, who organised a dress down day, and all the money collected was given to Bjorn to help continue with his remarkable cause.
Our CSR events are continuous and take many forms and this year, together with the staff members from MPS and ANCHOVY., we have organised a fun day and gave our full support in refurbishing part of the school of Ursuline Sisters in Ħaż-Żabbar, with the intention to support the education and upbringing of the children forming part of this school. Other CSR activities organised throughout the year were collecting food items and donating them to Foodbank in Old Bakery Street, Valletta to help families that are temporarily facing crisis; a dress down day to support Pink October, not only to create consciousness for Breast Cancer Awareness Month but to also help generate the much-needed funds required.
The company strives to exercise an employee centric management strategy by ensuring that its employees are a top priority. The Company believes that with work using up most of our lives it's imperative and significant to create and sustain workplace happiness and create the best atmosphere at work for employees and clients. From time to time, GasanMamo organizes small events for their employees to break the working routine and to make their days at work more enjoyable. On Valentine's Day, the Company gave all employees a healthy food bar, instead of the usual chocolate and wished everyone a healthy heart and a happy life because after all February is not only renowned for Valentine's Day but also Healthy Heart month.  Another successful event was the Hot Dog Day.  This day turned out to be a fun event and a perfect opportunity for staff from various departments to meet in a friendly and relaxed environment during a normal working day.
The highlight event of the year for company's staff was last September with the organisation of GMI Day, with this year's theme being 'Our Journey'.  The journey of the company, covering the past, present and future as it strives to continue to deliver constant excellent service to its customers.  Julian Mamo, Managing Director of GasanMamo, during his presentation highlighted and emphasised on various occasions that our employees are our customers and that all customers and staff make up GasanMamo.  He added, "Together we managed to do fantastic things, and this was down to the contribution of each and every one".
During 2017, GasanMamo Insurance continued to support numerous events and entities, including sports associations and clubs. We were once more one of the sponsors of this year's concert by Joseph Calleja and which was held on Saturday 19th August on the Floriana Granaries. This year's concert, which marked the 20th anniversary of the Maltese tenor debut in the opera world, had legendary Italian tenor, Andrea Bocelli as a special guest. GasanMamo also sponsored Cliff Zammit Stevens' 9th Annual Summer Concert, which took take place at Pjazza Teatru Rjal in Valletta in September.
We are one of the local companies that is renowned for its continuous support to local sports, particularly rugby and the national team.  The company has been sponsoring the Malta Rugby Football Union (MRFU) for the past 10 years and at the beginning of this year, the insurance firm renewed their sponsorship agreement with MRFU for another two years. GasanMamo continued to support the Mosta Football Club Youth Academy and the Swieqi Phoenix Handball Club women's team.
From a cultural point of view, we continued to reaffirm our commitment to support Maltese heritage by supporting various local organisations. We believe that these cultural events are important and feel it's our responsibility and duty to promote them.
No doubt the year to come will be another interesting one for GasanMamo and its employees. We will strive to continue to reach our goals according to our strategic vision.
GasanMamo would like to wish all our clients and staff a peaceful, serene and successful 2018.