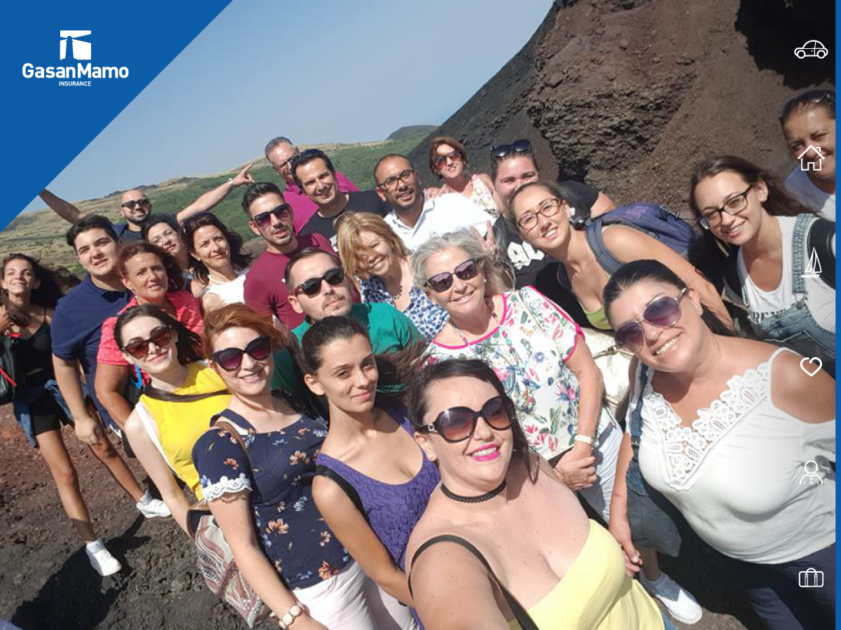 On Saturday 22nd July, a group of around forty employees together with their family and friends spent the day in Sicily.  This was another successful event organised by the Social Activity Group of GasanMamo.
Sicily is the largest island in the Mediterranean, and the largest region in Italy. It's packed with things to see and places to go to, so you shouldn't expect to "do" it all in one go, however, the organisers made sure to plan the day well and to make the most out of it.
GasanMamo's group started off the day in Catania with a classical Italian breakfast and then they headed off to Aci Castello, which is amongst the most famous and sought-after landmarks in eastern Sicily, maintaining a unique charm with its views of the clear sea.
Their next stop was at Mount Etna; an active stratovolcano on the east coast of the island, with a short stop for a typical Sicilian lunch. Needless to say, like any other Maltese visiting Sicily, GasanMamo employees were impatient to do some shopping and they went to Centro Sicilia Shopping Centre, which is located only 20 minutes away from the centre of Catania.
Undoubtedly this day turned out to be a successful event, which contributed in helping GasanMamo's team to continue to work well together, become more effective, more productive, and more successful – not to mention happier and more fun to work with.
A spokesperson at the insurance company said that "such events are enormously a significant aspect to improve the moral of our employees at work. It has been observed that employees with a higher and more positive morale, have a better attitude towards their job, uphold higher levels of customer service, and turn out to be much more creative and productive in their workplace. GasanMamo will keep on sponsoring events that promote the health and well being of all its employees".