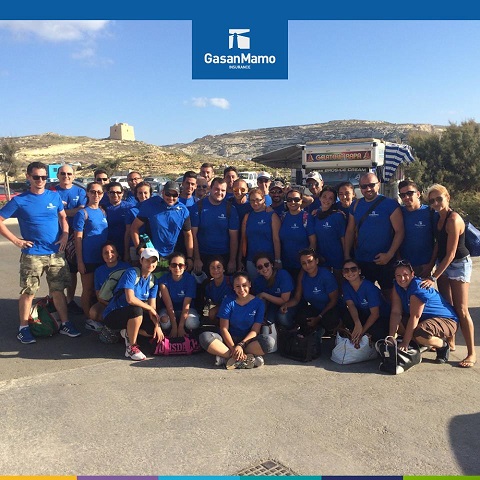 On Sunday 20th September, GasanMamo's Social Activities Committee organised a team-building event when they headed off to Gozo and spent the day interacting and competing in various activities outdoors. The employees of the leading insurer in Malta, took off to Dwejra early in the morning and were divided into six teams so that everyone got the chance to participate in the different activities at the same time.
Regular team-building activities
"This was yet another event in GasanMamo's on-going schedule of regular team-building activities," said Vanessa Portelli, General Manager at GasanMamo Insurance. "We believe that we can give our best as a company if we enable each and every employee to deliver the best of their ability. This means taking time out at regular intervals to keep them fully energised and to reinforce the team dynamic that is a key feature of how we operate as a company."
Various Challenges
Some of the challenges included the Segway challenge, abseiling, archery, beach volley and one of the traditional games in Malta, Boċċi. All the activities were co-ordinated by Gozo Adventures & Gozo Segway tours.
About Gozo Adventures
Many visitors to the Maltese Islands, including the Maltese community do not get to experience the islands vast diversity and natural beauty. Gozo Adventures show the natural and traditional aspects of Gozo, taking visitors away from set tour routes to locations that are rarely visited. Their main aim is to offer tours that are educational, enjoyable and eco-friendly, and also interact with and give something back to the local community. To prove their commitment they have adopted 'Responsible Travel' principles which help them positively and actively by contributing to the local environmental, social, and economic issues. Gozo Adventures offer knowledgeable guides and specialists who love the islands and other companies and NGOs who are committed to eco-tourism. Between them they strive to take you away from package tourism to discover history and traditions, art and culture, food and agriculture and flora and fauna.
About GasanMamo Insurance
 Able to trace its roots all the way back to 1947, GasanMamo Insurance is one of Malta's leading insurance companies providing competitively priced and a different range of insurance cover types, from car insurance and boat insurance to home insurance and health insurance for both personal and commercial clients through the Maltese Islands. The company recognises the importance of customer value and ensures that it maximizes value by keeping premiums as low as possible, yet maintaining the correct balance to provide service that meets the standards set by the company. The company's slogan or motto, We're Always There is something everyone abides to. The GasanMamo website offers comprehensive information to every customer and is easy to navigate so customers can get the support they need, when they need it most.