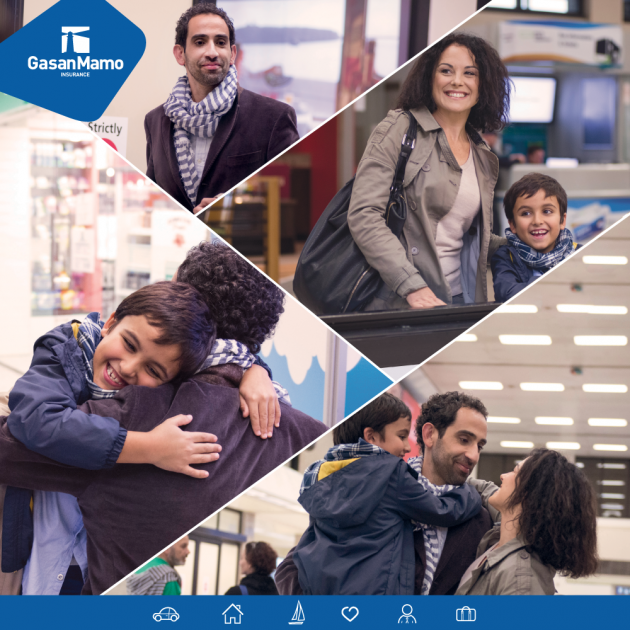 More often than not holidays are planned well in advance – endless weeks going through various brochures, analyzing flight options, choosing interesting sightseeing venues and accommodation which all in all wrap up a comfortable, well deserved break. Today the internet has made this even easier expanding options and making the whole process part of the holiday experience.
Essential checks need to be made; is the policyholder's passport still valid including at the date of return, is a VISA necessary for the country that is being visited and is the necessary foreign currency available. After all these preparations, the last thing one wants is for something to happen which would result in the cancellation of one's trip before the holiday actually starts. Apart from the disappointment and sense of anticlimax that this may bring, one then realises that there will most likely be a financial loss due to forfeiture of various deposits made.
Sadly, all too often one tends to recognize the real value of travel insurance after a loss. This may prove to be a very costly lesson if a relatively inexpensive policy was not taken out at the right time.
When Should One Take Out a Policy?
It is strongly recommended that one takes out a travel insurance policy once any travel tickets are issued or any deposits for accommodation and the like are paid. This will ensure that in the event of cancellation of a trip due to death or illness of the policyholder or any immediate family member; if the policyholder is made unemployed or their home becomes uninhabitable following fire, storm or flood or is summoned for Jury Service, the policy will refund any deposits and other amounts which the policyholder legally has to pay in respect of unused travel and accommodation. There may also be situations where a policyholder may have to curtail their holiday for the same reasons cited above and also in this case, they will be refunded accordingly.
This is obviously not the only reason why one would buy Travel Insurance. Once the trip commences there are various mishaps that can happen. Insurance is there to help. It does this through reducing the financial loss and the provision of support to policy holders when they encounter difficulties in far flung places.
Are Medical Expenses covered under a Travel Insurance Policy?
The Medical Section of a Travel Insurance policy covers the expenses for any emergency medical treatment incurred whilst overseas if policyholders suffer accidental bodily injury, illness or death. Policies also provide a hospital cash benefit if admitted as an in-patient in a hospital abroad.
The GasanMamo Insurance Travel Insurance policy provides an International Emergency Medical Rescue service where experienced assistance coordinators will provide policyholders with immediate help whilst they are overseas. Such services are very much appreciated knowing that emergency medical arrangements are being catered for in situations where policyholders may be worried, anguished and tense.
Policies usually exclude pre-existing medical conditions. It is therefore always advisable for policyholders to read through the policy and ensure they are fully aware of the terms and conditions in the policy.
Should Policyholders Issue a European Health Insurance Card?
It is recommended that if policyholders are traveling to countries within the European Union, they issue a European Health Insurance Card previously known as the E111 (issued by the local Health Authorities) which will offer them the same medical treatment as the citizens in the country they are visiting. It is however important to note that this card is not a substitute to a travel insurance policy and the latter should always be issued when traveling particularly since this provides cover for other non-medical related sections.
What Else is Covered?
A travel insurance policy is a package policy which incorporates various additional protection including:-
cover for loss of money and baggage
cover for your personal liability whilst overseas
cover for Personal Accident
costs incurred for delayed and missed departure
costs to re-issue a passport if this is lost or stolen.
Will a Person be Covered for Cancellation of Service as a Result of Adverse Weather Conditions and Natural Disasters?
This is optional and will provide cover for payments of reasonable additional travel and accommodation expenses necessarily incurred following adverse weather conditions or other natural disasters. This cover is available at an additional premium of €10 for Adults reduced to €5 for children under 16 years.
Can a Person Opt to Waive their Insurance Excess?
Yes, a policyholder can opt to waive their insurance excess. In this way, in the event of a claim, no excess would be payable. This option is available at proposal stage at €2 or €3 per person for Area 1 and Areas 2/3 respectively.
Is a Travel Insurance Policy Expensive?
The probability is that the travel insurance policy is the cheapest expense of one's holiday! A travel insurance package for a trip with a maximum duration of 11 days costs only €20 plus taxes which averages at just under €2 for each day of one's holiday.
What benefits are offered by the GasanMamo Travel Insurance?
Our Travel Insurance policy offers three tiers of cover – Basic, Standard or Executive varying in the level of cover provided. This will ensure that insurance protection is available to suit everybody's individual budgets.
Full details of the policy cover, benefits and pricing may be obtained from www.gasanmamo.com/support/downloads.