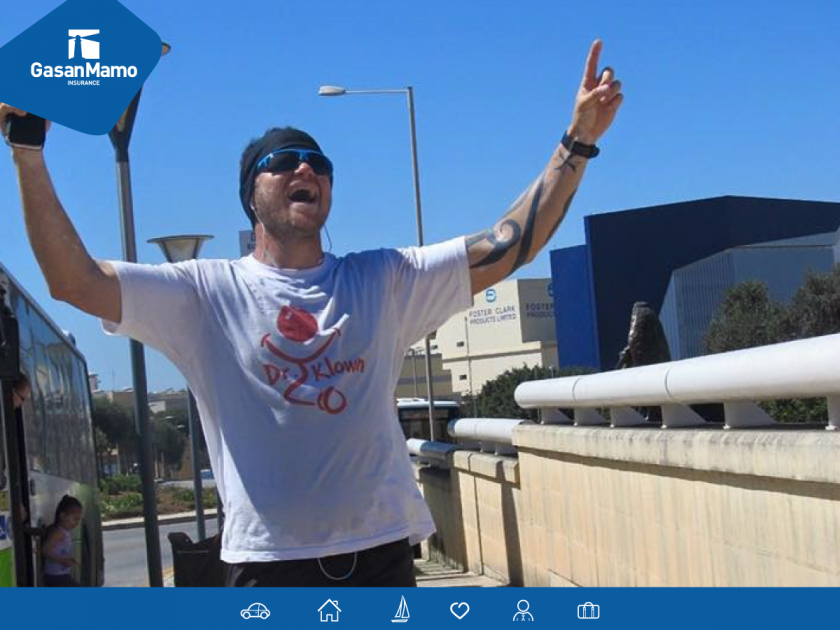 GasanMamo Insurance continually strives to support great causes that have a positive benefit for the wider community. The company recently demonstrated this passion, by lending their support to Chris Mamo's initiative "20 Marathons in 20 Days for 20 Beds", by sponsoring a bed for the charity event. Chris Mamo—a thirty-three year-old Anglo-Maltese personal trainer, who spent twelve years in the British Armed Forces—teamed-up with Dr. Klown to raise funds for twenty new beds across the four paediatric wards of Mater Dei Hospital.
In an effort to make a difficult time slightly more bearable, by giving parents of hospitalised children a better night's sleep, Chris Mamo ran twenty marathons across the Island during March and April. As Chris Mamo said on his fund-raising page, "Having one of your children hospitalised for a length of time is hard enough for any parent, but adding restless nights does make the situation even more difficult than it already is! It was clear that parents spending the night, a week, or a few months with their hospitalised child would benefit from wall-mounted pull-down beds".
"It didn't take us very long to get behind this wonderful cause" said Julian J. Mamo, Managing Director at GasanMamo. "Sick children are one of the most vulnerable groups in our community, and Chris's initiative is a brilliant way of bringing the community together to help the families of hospitalised children".
About Dr Klown
Inspired by Patch Adams (1998)—a semi-autobiographical film about American physician, comedian, author and all-around clown, Hunter "Patch" Adams—Dr Klown is a non-governmental organisation operating from Mater Dei Hospital. Set-up in 2010 by a group of like-minded individuals endeavouring to bring joy, laughter and smiles to the faces of sick children, Dr Klown ascribes to the age-old tenant that "laughter is the best medicine". Clown doctors are not doctors, but volunteers who under-go rigorous training to entertain sick children, and bring laughter to their families and hospital staff, during a difficult time. Throughout the twenty marathons, Chris Mamo was cheered-along by Dr Klown volunteers.
GasanMamo is a big advocate of Corporate Social Responsibility, believing that by giving back to people they are enriching the lives of the greater community. www.gasanmamo.com.
About GasanMamo Insurance
Able to trace its roots all the way back to 1947, GasanMamo Insurance is one of Malta's leading insurance companies providing competitively priced and a different range of insurance cover types, from car insurance and boat insurance to home insurance and health insurance for both personal and commercial clients through the Maltese Islands. The company recognises the importance of customer value and ensures that it maximizes value by keeping premiums as low as possible, yet maintaining the correct balance to provide service that meets the standards set by the company. Corporate Social Responsibility makes a big part of how GasanMamo Insurance goes about business. The company believes that giving back to people and communities is their duty and serves to enrich lives across the board.