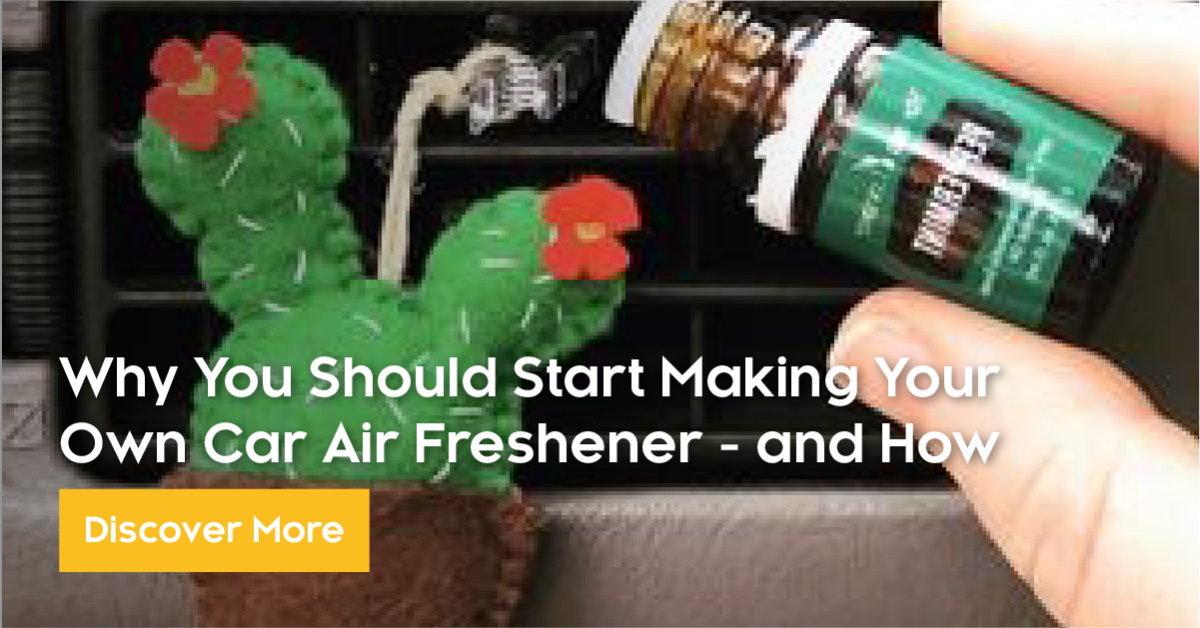 Car air fresheners are as important as car insurance. Anyone who has had the terrible experience of being stuck in a car that smells like old socks would know that we are not exaggerating. Air freshener can eradicate odor and keep your in-car atmosphere more hygienic.

In this piece, we will break down why you should prepare your own car air freshener instead of buying it. Got no idea how to make air fresheners for cars? No worries, we will provide a step-by-step guideline for that too. So, take a few minutes out of your schedule and give this article a read. It will be a joy ride, we promise!

Why You Should Make Your Own Car Air Freshener?
First of all, making car air fresheners at home would save you a lot of money. Commercial air freshener manufacturers charge exorbitant amounts for their products. But, going through this piece, you would realize that you would be able to make them at home spending far less money. Moreover, it's an easy process as well.

You can also start a small business out of this if you have been exploring additional revenue streams. Homemade car air fresheners are high in demand. If you can produce quality products, homemade car air fresheners would fly out of your shelves in no time. You can sell these through social media, online marketplaces, or creating your own site.

Besides the financial benefits, making your own car air freshener gives you control over the ingredients that are being used to make the air fresheners. Many commercial car air fresheners contain unhealthy chemicals. You can opt for organic content instead, and ensure the physical well being of you and your family.

How To Make Car Air Freshener At Home: Clothespin Air Freshener
Step 1. Choose Your Essential Oil
The first step would be to pick an essential oil to your liking. It would be responsible for the scent of the air freshener. In this tutorial, we would go with peppermint oil.

Step 2. Pour Essential Oil Into Clothespins
Take two or three clothespins and pour a few drops of essential oil into each of them.

Step 3. Put Clothespins In A Plastic Bag
Now, put the clothespins in a plastic bag and seal its mouth. You can also throw in some herbs like fresh mint, lavender, rosemary, etc. This would diversify the aroma of the air freshener you are making. However, it is not mandatory, and peppermint oil dripped clothespins alone are capable of creating a pleasant fragrance.

Step 4. Take The Clothespins Out When You Want To Use Them
The clothespins would be ready for use after a day. When you want to use them, take them out of the bag and attach them to your car's air vent. The scent would spread throughout the car as soon as you turn on your AC. The scent would fade over time, but you can repeat this process and reuse the clothespins.

How To Make Car Air Freshener At Home: Mason Jar Air Freshener
Step 1. Take Baking Soda In A Jar
Fill two-thirds of a half-pint mason jar with baking soda.

Step 2. Add Essential Oils
Add 20-30 drops of essential oil or oils into the jar. You can use any essential oil or a combination of essential oils. In this case, we have used a blend of lemon and lemongrass. The amount of each essential oil you would be using has to be the same.

Step 3. Mix The Ingredients
Place the lid over the jar and shut the opening of the jar tightly. Then, shake the entire jar a couple of times, so that the ingredients can intermix. The goal is to create a proper meld of baking soda and essential oils.

Step 4. Poke Holes Into The Lid
Take a thumbtack push pin, and poke some holes into the jar lid with it. The scent would be able to come out through these holes.

Step 5. Station The Jar In Your Car
Your air freshener is now ready for use. All you need to do is to put the jar in the cup holder of your car, and the beautiful scent would disperse all over your car interior.

Why Car Air Freshener Is Important
Eliminates Odor
The inside of a car is a confined space. So, it is very usual that it would smell terrible over time as the trapped air cannot get out of the car. Air fresheners can put an end to this uncomfortable situation and diffuse an enjoyable scent inside your car.

Maintains Hygiene
The inside of a car is a hotbed of pathogens. Many people get in your car, who bring their own germs. If you have pets, they would contribute their fair share of microbe transmission as well. And, of course, on-road pollutants are always there. Air fresheners can take out these contaminants from the inside environment of your car.

*GasanMamo Insurance Limited is authorised under the Insurance Business Act and regulated by the MFSA