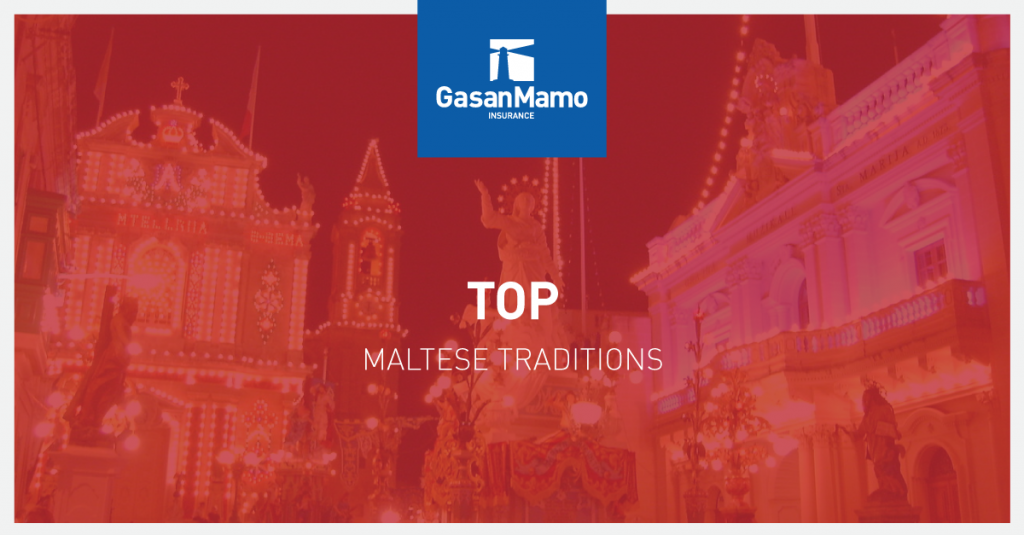 Village Festa

Fireworks light up the night sky, the Maltese show their devotion to the patron saints of their respective villages and everyone piles into the streets to view beautiful decorations and embellishments which only come out once a year. We are, of course, referring to the village festa, which is at the very core of Maltese traditions and life. What would Malta be without them, one wonders?
Big Celebrations of Religious Sacraments

Baptism, First Holy Communion, Confirmation and Matrimony are all religious sacraments which are cause for sizeable celebrations with family and friends, normally replete with plenty of food and drink. The sacraments themselves, together with celebrating them in a big way, are an integral part of Maltese life.
Il-Quccija

Il-Quċċija is a tradition which takes place on or just after a child's first birthday. The child is encouraged to choose from a selection of objects. The object he or she picks is supposedly indicative of what the child's future career is to be, for instance, a pen or pencil for a writer, a hardboiled egg to symbolise prosperity or rosary beads in the event of a religious calling.
L-Ghana

L-Għana is Malta's traditional form of folk singing, which originated with labourers and housewives singing as they went about their working day. This later evolved into the Għana we know today, which is maintained by professionals rather than being part of present-day Maltese traditions and life. The best għannejja are renowned for their ability to improvise lyrics and verses on the spot.
Supporting England or Italy

This one is somewhat acquired as of the past 100 years of local history, but it's included here to include the "you against us" notion which is prevalent throughout Maltese society, be it through rival village feasts, political parties, football teams and the like.
Lace Making

Queen Victoria, the queen who ruled over the largest empire the world has ever seen, was particularly fond of wearing Maltese lace. It originated in the 16th Century and it is a highly-skilled craft which usually employs the use of white linen. Nowadays it is more commonly associated with Gozo, although there are various initiatives to ensure the industry remains alive and well.
Carnival and Carnival Floats
Carnival celebrations were introduced to Malta by Grand Master Pietro de la Ponte in the 16th Century, whereas the papier-mâché works of art we all know and love – floats – became prevalent at the height of the British era during the 19th Century. The most elaborate float, a depiction of the fantastical King Carnival, is one of the festivities' focal points.
Il-Priedka tat-Tifel (The Child's Sermon)

This tradition originated in Luqa in 1883 when a boy named George Sapiano was the very first to deliver the Child's Sermon. This sermon replaces the priest's sermon during Midnight Mass, held at all Maltese parishes at midnight on Christmas Day. It usually takes the boy giving the sermon some four to five weeks to memorise it in its entirety.