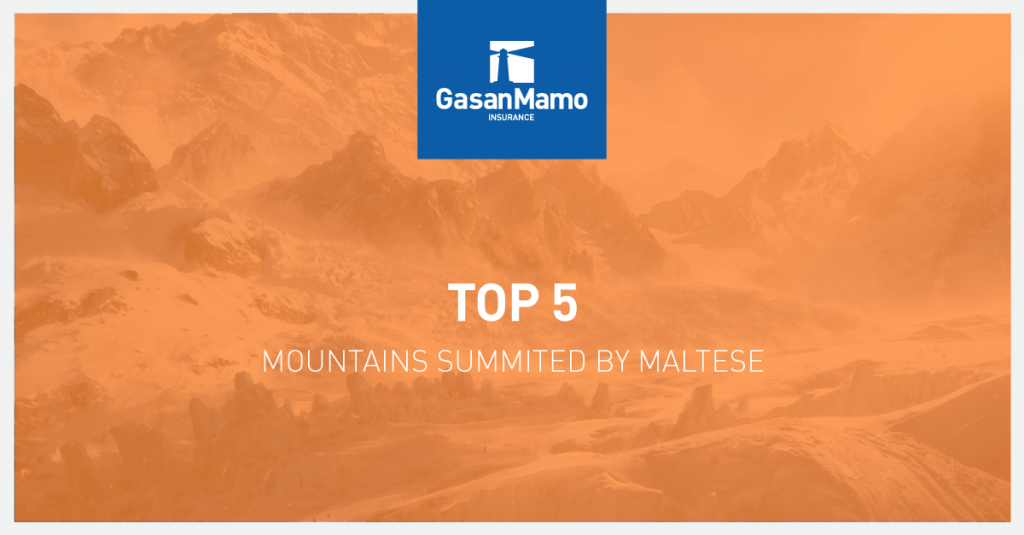 When you think about it, you wouldn't really imagine Maltese people to be the most avid mountain climbers in the world, but our flag has been flown on the peak of the world's highest mountain, Mount Everest, among other incredibly high and treacherous mountains summited by Maltese people.
Cho Oyu, China/Nepal Border

Cho Oyu, a Himalayan mountain, is the world's sixth-highest, standing some 8,201 metres above sea level. The mountain's name means "Turquoise Goddess" in Tibetan. Believed to be the easiest mountain over 8,000 metres to climb, it summited by Greg Attard, Marco Cremona and Robert Gatt on 24th September, 2009 as they prepared to summit Everest some months later.
Mount Everest, Nepal
Everyone knows this one – Everest is, of course, the world's highest mountain. Its peak is some 8,848 metres high and it is notoriously difficult to reach due to inclement weather and steep inclines. The mountain claims numerous lives each year as a result. The same trio who summited Cho Oyu, Greg Attard, Marco Cremona and Robert Gatt, summited Everest together with their British guide, Victor Saunders, on 17th May, 2010, becoming the first Maltese to do so. Greg Attard summited the mountain for a second time, climbing from a different face, with a different expedition team on May 25th, 2014.
Kilimanjaro, Tanzania
Kilimanjaro is the world's highest free-standing mountain. It features no less than three volcanic cores and is the tallest mountain in Africa, towering some 5,895 metres above sea level. Almost 100 Maltese people have summited the mountain as part of one of several Kilimanjaro Challenge teams that have made the ascent in aid of charity. The Kilimanjaro Challenge has raised over €450,000 for various projects to date, notably the construction of a school and convent in Ethiopia.
Aconcagua, Argentina
The most recent Maltese expedition to the 6,961-metre summit of the world's highest mountain outside Asia took place in 2013, however it had previously been summited by a six-man team on 8th January, 2008. Aconcagua is some 16,270 kilometres away from the next-highest mountain – Pakistan's Tirich Mir.
Gasherbrum I, China/Pakistan Border

A team led by Gregory Attard summited Gasherbrum I, a Himalayan mountain which is notoriously difficult to climb, without using guide ropes in 2013. The feat was even more impressive as the team had previously summited Gasherbrum II – it climbed two very tough mountains in quick succession. Gasherbrum I stands 8,080 metres high.