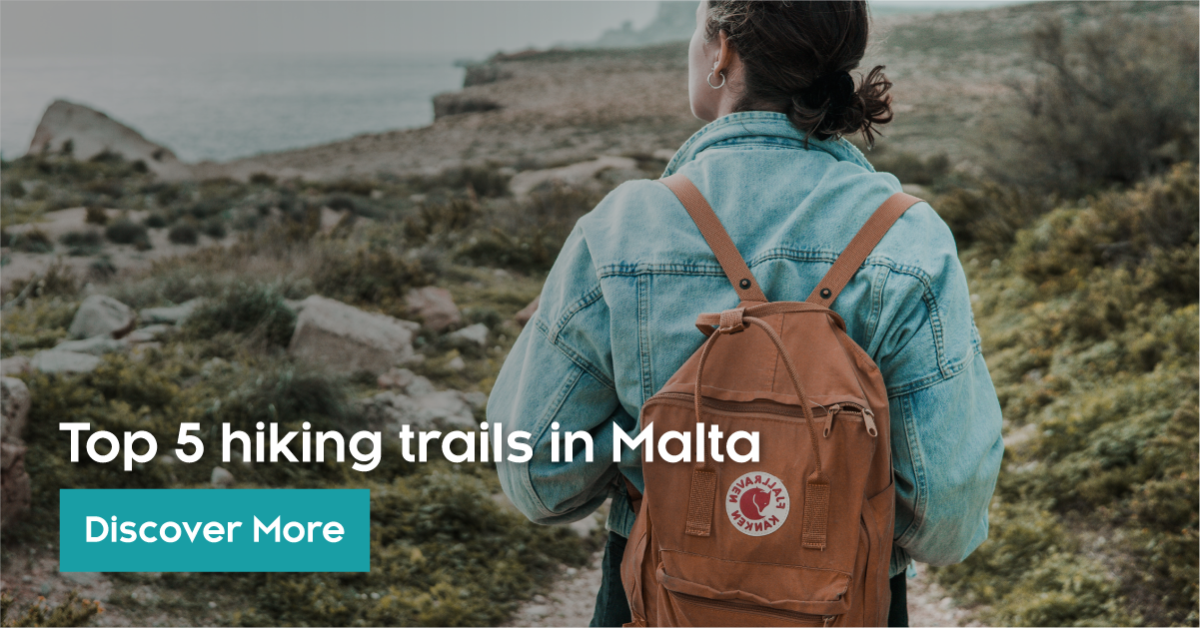 Azure waters, vitalising sun, a rich heritage, unique indigenous biodiversity and more. From picturesque fishing villages, terraced farms, secretive valleys and a few remaining untouched rural areas, there's a lot to see in Malta. Though Malta's area is no larger than around 316 km², what the island lacks in size it certainly boasts views, beaches and tranquil places of nature. There are plenty of charming hiking routes in Malta that catch the eye.
This is perfect because hiking is extremely good for your health. Going on a walk can help you burn calories, calm your mind and strengthen your heart, increase blood circulation and more. Now that Autumn is just around the corner, hiking is something you might want to consider. 
If you're trying to find the perfect place for your next hiking trip, we've got you covered. Here is a list of the most scenic and spectacular hiking routes in Malta that can easily take up the next few weeks ahead. 

St. Thomas Bay Cliffs
The cliffs that start from St. Thomas Bay offer an amazing sight to behold. Walking from St. Thomas Bay to Marsaxlokk is something any outdoorsy person can enjoy. High cliffs, easily-accessible paths, clear greenish-blue waters and diverse trails are guaranteed.
The best thing about this hiking trail is that once you're done, you can take a refreshing swim at St. Peter's Pool which is somewhat close by and an adventurous place to visit. You can also stop for a plate of fresh fish at the fishing village of Marsaxlokk when your hike is completed. 

The Red Tower in Mellieħa 
St. Agatha's Tower, commonly known as the Red Tower, is a unique building that offers a glimpse of all that Malta in the past comprises. The area is easy to access. However, the tower is set on a somewhat high hill. The best way to go about starting your hike is to park your car near the Red Tower and walk it to Aħrax. 
Aħrax is a fantastic place to visit, especially in the cooler seasons. The trail loops around the northernmost part of Malta and will take you through wooded areas, farmed land, olive trees, high cliffs that offer scenic views of Malta's sister islands, secretive bays and more. Hikers enjoy taking a dip at Slugs Bay in Mellieħa, halfway through the hike. 
If you're right in time to watch the sunset, climb on the Red Tower once your hike is over. This will give you a gorgeous view of Malta, Comino and Gozo you'll hardly forget.

Dingli Cliffs
Hiking along the Dingli Cliffs trail is enjoyed by many locals. The area boasts picture-worthy hiking routes in Malta and some of the best views of the tiny island of Filfla. It doesn't require much physical activity as the trail mainly consists of one continuous path. The area is quite high up and open – it is best to visit when the sun is setting. 
Contrastingly, the area is perfect for stargazing. The rural area contains clear skies in the hotter seasons which is perfect for stargazing.

West Gozo
Gozo's serene and untouched landscape is relaxing and invigorating at the same time. Upkeep your health by taking a hike starting from San Lawrenz. From this village, you can head towards Dwejra. While the Azure Window at Dwejra would have been the highlight of the walk, there is still a lot you can see and do at this location.
From swimming to stopping for a coffee, you'll enjoy the day here either way. After this, follow the coastline path past Fungus Rock, s small islet of limestone. Continue your hike down towards the scenic Lunzjata Valley. It can be good to end the hike at Xlendi, where a number of restaurants are in the area.

Tas-Silġ
Much like hiking up the trails of St. Thomas Bay, tas-Silġ Walk is a pleasant hike between the two fishing villages of Marsaskala and Marsaxlokk. Walking from one of these villages to the other shouldn't take too long; making it perfect for those who want something less intensive.
Starting in front of the parish church in Marsaskala, you can take in the beauty of the quaint little village: from the bouncing children playing on the local playing field grounds to the colourful traditional fishing boats.
The walk itself deviates in two directions: it can either bring you through the countryside or else past St. Thomas Bay's cliffs that surround the coast the whole way to Marsaxlokk. Both of the routes are beautiful in their own right so you'll need to decide whether you'll prefer to see the magnificent coastal cliffs or the lush countryside. 
Insure Your Health
Health is wealth. Taking care of our physical and mental health is absolutely vital for all of us. Start doing more to improve your health today by checking out our inclusive health insurance.

GasanMamo Insurance Ltd. is authorised under the Insurance Business Act and regulated by the MFSA