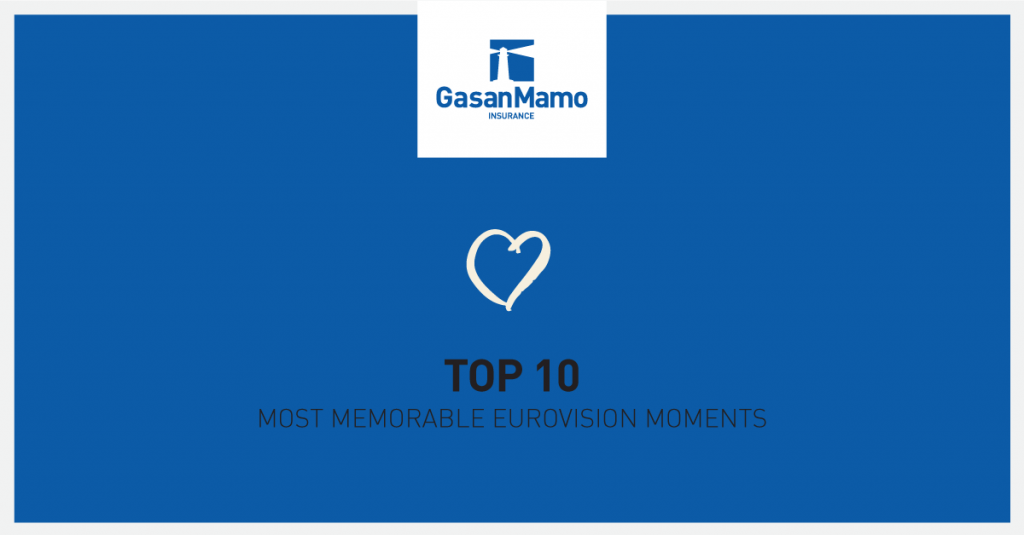 The Eurovision Song Contest has given us plenty of entertaining moments over the years – crazy costumes, power vocals and performances, controversies and neighbouring countries looking out for one another all witnessed by some of the most devoted fans of any fan base in the world. Here are our top 10 most memorable ones:
Abba Begin their Road to Superstardom
The iconic Swedish pop group, consisting of Agnetha, Anni-Frid (Frida), Björn and Benny, were catapulted to superstardom following their victory in the British seaside resort of Brighton some 40 years ago. Their song, "Waterloo", was voted the best Eurovision song of all time during a vote at the 2005 Eurovision Song Contest. ABBA went on to sell 380 million records, making it one of the best-selling pop groups in history.
Bucks Fizz's Skirts Go Missing
We all love a good stunt during a performance – it gets us talking. With that being said, the skirts being whipped off the female group members performing 1981's winning entry, "Making Your Mind Up, by British pop group Bucks Fizz, would have been forgotten about in a heartbeat if it happened during a present-day Final. Nevertheless, this mid-performance undress happened well over 30 years ago and wasn't really something that had been seen in the Contest before.
Dana International's Win is God's Work
Transsexual singer Dana International, who hails from Israel, stormed to victory at the 1998 Final with her upbeat dance entry, "Diva", beating out Chiara's entry at the final hurdle. In response to Orthodox Jews and other religious conservatives from her home country, she claimed that her victory was proof of God being on her side and that in spite of her being who she was, that did not make her any less Jewish or less a believer in God.
Ira Losco Becomes Malta's Sweetheart
Ira Losco is a star. There's no doubt about that these days, but it was her Eurovision performance at the 2002 final in Estonia that placed her firmly in the hearts of the Maltese public and beyond. A knockout in her white lace jumpsuit, she started her song, "7th Wonder", shakily, but her stage presence and her vocals built up to a glorious crescendo. She finished second, the best-ever placing by a Maltese artist at the Eurovision Song Contest – an accolade she shares with Chiara. Her artistry has evolved substantially in the 12 years since.
Chiara's Double Podium Finish
Home-grown diva Chiara first made it to the podium of a Eurovision Song Contest Final in 1998, with her entry "The One That I Love" placing third in Birmingham, UK. Her second effort, "Angel", saw her finish second at the 2005 Contest held in Kyiv, Ukraine. She equalled Ira Losco's best-ever placing by a Maltese artist at the Contest, and following her third entry in 2009, she became the third most successful Eurovision Song Contest entrant ever in terms of the number of points she accumulated.
Lordi Scare Europe into Voting for Them
Leave it to the Scandinavians to send an off-the-wall entry to a Eurovision Song Contest Final. The Finnish certainly came up trumps in 2006, with their entry "Hard Rock Hallelujah" by rock band Lordi. The band's members wore grotesque costumes masks, and platform shoes and jumped about the stage as if they were Bon Jovi or Metallica in their heyday. It wasn't a particularly great entry, but Europe appeared to be so mortified at the sight of them that they didn't think to vote for anyone else!
Verka Serduchka's Jibe at Russia
Who can ever forget? This entry featured glittery, outlandish costumes, a crazy dance routine and plenty of upbeat silliness while managing to incorporate a fairly substantial political overtone. This reference is, of course, to the 2007 Ukrainian entry "Dancing Lasha Tumbai". The lyrics "I want to sing, Lasha Tumbai" sound uncannily similar to something else, don't they?
Grannies Consign Ageism to the Dustbin
Buranovskiye Babushki, a Russian pop group consisting exclusively of grandmothers from a remote village in the state of Udmurtia, represented their country at the 2012 Final decked out in traditional dress and with two members having to sit out the performance due to Eurovision rules. An act like this, with its oldest member in her late 70s, showed that age really is just a number. They finished in a highly respectable second place.
Loreen Knocks Everyone's Socks Off
The Swedish entry at the 2012 edition of the Contest, "Euphoria", by Loreen, was a favourite long before that year's Final got underway. Not only was the song catchy and upbeat, but Loreen herself proved to be the source of much intrigue. The thing that stood out most, however, was her performance at the Final. She was mesmerising. It was far more than a singer singing a song – it was a piece of theatre. She told a story and in the space of three minutes, captivated the whole of Europe.
Conchita Wins Eurovision 2014 Despite Controversy
Conchita Wurst, the bearded Austrian drag queen with a set of pipes on her akin to those of Shirley Bassey, won the 2014 Final after stirring up plenty of controversy due to her image in Eastern European countries and Russia. No matter how uneasy she made the more conservative among us feel, there was no denying her talent or her glamour. As the votes came in, television cameras showed her weeping in appreciation of the fact that Europeans were putting whatever prejudices they may have had aside and voting for a great performance.
N.B. We do not own, nor do we claim ownership, of the images used in this blog post. They are strictly copyright their respective owners.