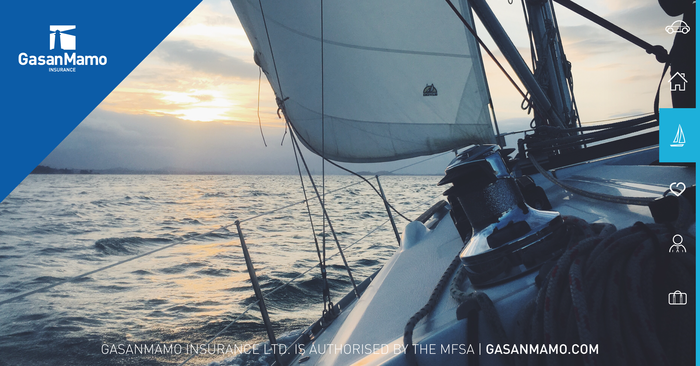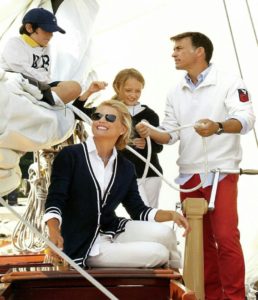 After a whole summer out you want to be able to care for your boat so that she will be in shape for the coming season.
If you will be able to use your boat during the winter months, take it out of the water or if you prefer to simply moor it, here are a few tips.
Winter Use
If you're using your boat during the winter months, then it's good to give it a good clean and check-up anyways. The following will therefore apply, so that you can be rest assured that you will be safe on the seas.
Getting the boat out of the water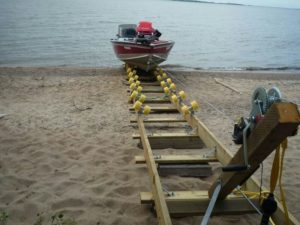 When you pull up to the ramp you want to know how to launch your boat properly – it's too late for a crash course in manoeuvring, so take the time and get to know the basics beforehand.
You need to disconnect any electrical outlets and stow all safety equipment, transom straps and mooring lines inside the boat. It's also a good idea to practice a bit before in an empty parking lot.
Before the launching ramp
Prep the boat before you approach the ramp so that you will not hold others up.
Load your safety equipment, mooring lines and other gear

Unhook and stow transom straps

Disconnect any incandescent light bulb plugs

Gather your mooring line and fenders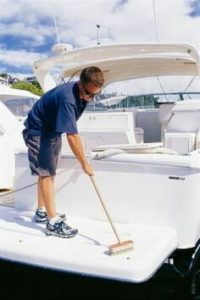 On the Ramp
Make sure you have a spotter, whilst you or someone else is driving.
Position the vehicle and trailer as straight as possible – you should be about a trailer's length away.
Set the parking brake, and if you have a large boat you want to make sure you chock the wheels to keep them from moving.
Once in line then hook your boat up to the trailer.
And you can start driving up the ramp.
Importance of a Boat Cover
Having a protective cover over your boat is always a good idea. What does it actually do?
Prevents scratches and dents, also fading due to the sun

Prevent minor repairs

Keep out the bugs and critters, and of course and bird droppings or debris

You will spend less time cleaning when it comes to re-launching your boat

Avoid casual theft of parts

It of course ensures longer boat life and a higher resale value
General Maintenance
Wash – you need to do this regularly. Due to saltwater, you want to rinse it thoroughly with fresh water (after every outing preferably). Use a long-handle, soft-bristle boat brush and good-quality soap.
Change your oil – if you have a four-stroke outboard, inboard and stern drive you want to change it more regularly. The frequency will differ according to the model, yet you should change every 100 hours of operation at least.
Check the propeller – if you have an outboard or stern drive you need to check the propeller as part of your pre-launch routine. Use a deep well socket to remove the propeller several times during the season to make sure it is clean and there's nothing stuck to it. Whilst it's off then you want to check for any nicks, dents or other damages.
Mooring
Secure your boat by making sure that your lines are tied to the dock.
You should be aware of which moors are covered for you to use by your insurance company. If something goes wrong in a location they have not approved then you cannot claim any damage.
For example, we approve these bays and marinas:
Msida Yacht Marina
Manoel Island Marina
Msida Creek
Lazzaretto Creek
Sliema Creek (up to Marks and Spencer)
Portomaso Marina
Kalkara Creek
Kottonera Marina
Pretty Bay; St. George's Bay; Wied il-Buni – Birzebbuga
Bugibba (beneath Portobello restaurant)
Marsaxlokk Bay
Mgarr Harbour – Gozo (excluding pontoons B, C, D and E)
Xemxija (behind Ghajn Razul breakwater)
Sandy Yacht Marina – Ta' Xbiex
Laguna Marina – Valletta Waterfront 
What Apps to Use When Out at Sea
We want to make sure you're as safe as possible on your travels. So apart from the usual precautions and safety measures it's good to have a few handy apps at your service in case you need to check on something like the weather conditions for your next travels.
Not sure which one we're talking about? It's called 'Kaptan' (Maltese fir captain) which is quite apt we think. It has been designed to update you with real-time marine and weather predictions. Users can access interactive spatial maps which give details about prevailing conditions at sea as well as forecast information.
It's worth mentioning that this is a free app, which is definitely going to make seafaring safer and more comfortable.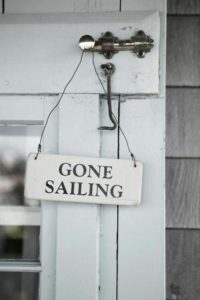 It's all about staying safe and making it a team effort!
We hope you have found this informative, contact us if you require any additional information or for queries.
Sources: