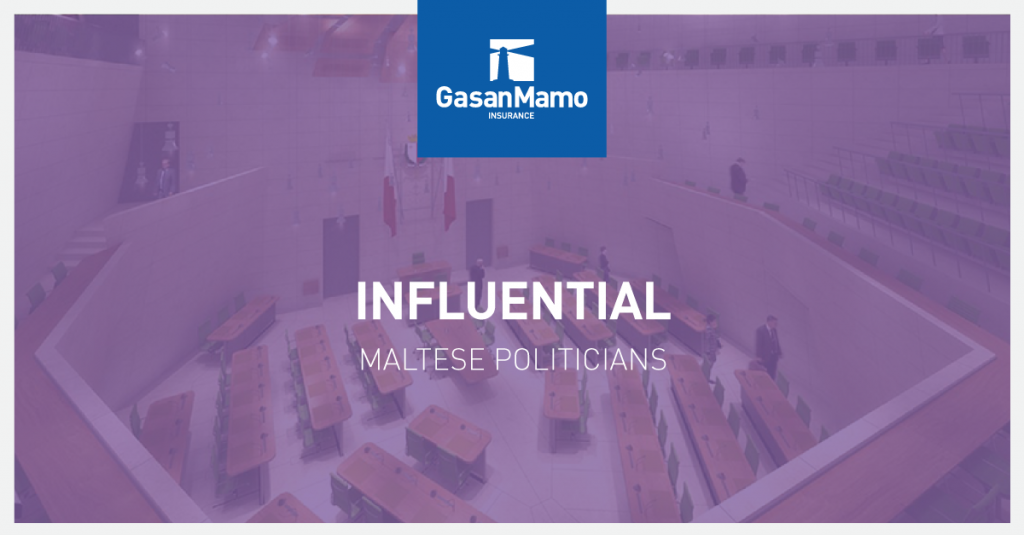 The Maltese are known for being very passionate about politics. When needed, the nation comes together to debate views they feel so strongly about, regardless of what party they represent. But it wouldn't be possible to be so passionate without politicians that drive those political views. We look back in history at various Maltese politicians that have been influential to the islands.
Giorgio Borg Olivier
Nationalist politician Giorgio Borg Olivier was the Prime Minister of Malta, between 1950-1955 and again 1962- 1971. Influential in the drive for Maltese independence, in 1963 he led the Malta Independence Conference which concluded that Malta would become independent. Once successful, he ensured Malta prospered following its independence by setting up economic, social and political development programmes. The economy continued to grow with industry and banking developing together, and tourism offering many jobs to Maltese workers.
Borg Olivier was recognised on several occasions for the work he did for Malta, he was awarded a Knight Grand Cross of the Order of St. Sylvester, by Pope Paul VI and honoured with the Grand Cross of Merit of the Order of Malta by the Grand Master of the Sovereign Military Hospitaller Order of St. John of Jerusalem, of Rhodes and of Malta.
Dom Mintoff
Also known as il-Perit (the architect), Mintoff had an interesting and varied political career. He was the Prime Minister of Malta and Minister of Finance from 1955-1958. His resignation in 1958 was spurred by a disagreement with the British which triggered his effort to drive for Maltese independence. The move from a monarchy to a republic meant that human rights were enhanced, the government's involvement in the economy expanded and business concerns within banking and telecommunications were nationalised. He focused on maximising exports which contributed to the economic boom in the 1970s, which led to an increase in the standard of living.
Mintoff also influenced politics across Europe, he launched a campaign in 1973 to ensure that the Mediterranean was included in promoting peace and security in Europe.
Agatha Barbara
Known for being Malta's first female president, Barbara influenced great change in the national education system. She fought strongly for improved education across Malta, introducing compulsory full-time basic education for all children. In addition, she established teacher training colleges, special schools for the disabled, made secondary school free and ensured that science was available for both boys and girls.
Barbara wasn't only influential within education she reduced unemployment and improved pay and conditions for workers. Revered for her views on women's rights, she introduced equal pay for men and women and introduced paid maternity leave.
Edward Fenech Adami
Malta's longest serving Prime Minister since its independence, Fenech Adami was a Nationalist politician who led the party to five general election successes. He represented the Maltese Nationalist Party as Prime Minister from 1987-1996, then again from 1998-2004, he then resigned from the party to be President of Malta from 2004-2009.
Fenech Adami's most influential campaign was to get Malta into the European Union. The initial application was delayed due to the change in government in 1996 but Malta successfully joined the EU in 2003 following the EU referendum where Fenech Adami led the pro-EU campaign. The move to the EU was concluded when he signed the Accession Treaty with the European Union on April 16th 2003.
At GasanMamo, we celebrate the influential Maltese politicians who have left a lasting impact on the nation's history and governance.
We hope you enjoyed honouring their dedication, passion, and unwavering commitment to serving the Maltese people with us.