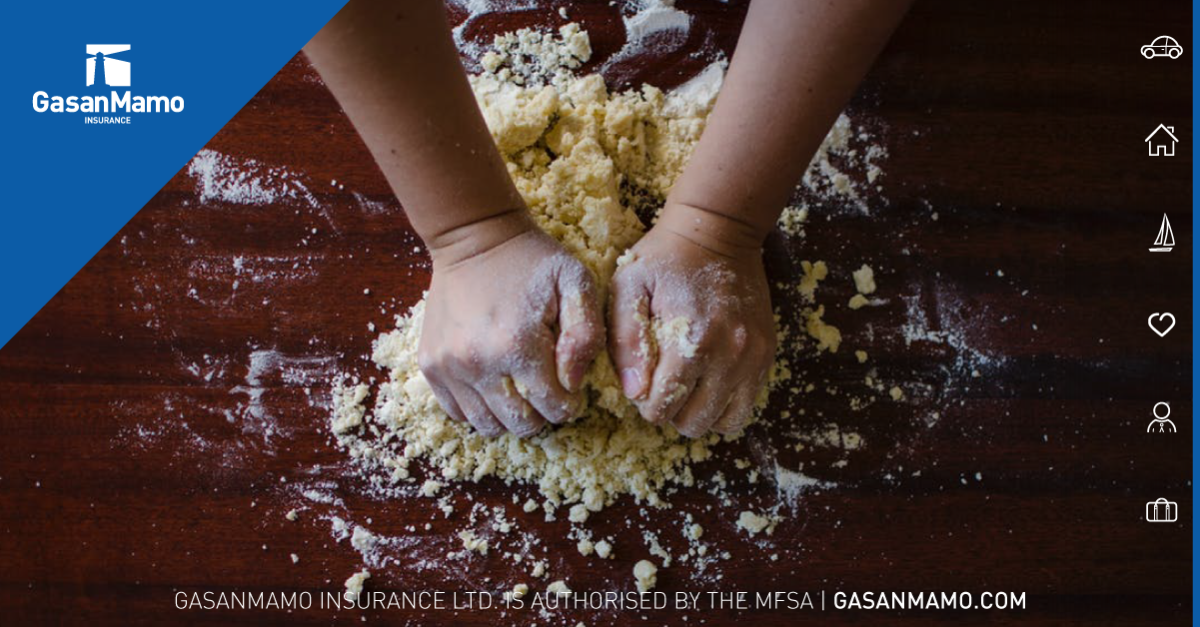 Everyone knows and loves figolli – they are a staple of Malta's Easter traditions. Figolli are comprised of pastry and are stuffed with a tasty almond filling. They are usually cut into various shapes, usually representing various symbols of Easter – such as eggs or bunnies – and are decorated with icing and small chocolate eggs. Traditionally, figolli are jam packed with sugar, butter and flour. Since health is one of our core values at GasanMamo Insurance, we've also given our suggestions to take a healthy twist to the more traditional recipe, which we've adapted from this recipe to prepare healthy figolli.
Ingredients
750 grams sugar
800 grams all purpose flour
400 grams butter
Rind of a lemon and an orange, grated
4 egg yolks + 3 egg whites
1 teaspoon vanilla extract
Pinch of salt
3 teaspoons baking powder
400 grams ground almond
1 teaspoon of almond essence
150g sugar-free dark chocolate to decorate
Preparing the dough
We'll start by preparing the base for the biscuits. Begin by combining the free flour, 350 grams of sugar, and baking powder into a bowl. Break the butter into fine pieces and add in, mixing together until the mixture starts to resemble breadcrumbs.
Next, add in the rinds of the lemon and orange, and the beaten egg yolks. Knead into a soft dough, adding in some orange or lemon juice if needed.
Wrap the dough in cling film and refrigerate (ideally overnight).
Preparing the filling
Mix together the remaining sugar, ground almonds and almond essence. Once mixed, fold in the egg whites.
Bringing it all together
Begin by preheating the oven to 200 degrees Celsius,
Remove the dough from the fridge, and roll out onto a flat surface coated in flour. Don't roll the dough out too thin, or it may not hold together.
Next, cut out the dough into two shapes of equal size – you can either use a metal cutter, or you can prepare your own shape from paper and cut around it. The important thing is that the two pieces fit on top of each other.
Sandwich the filling between the two pieces of dough, and place on a lined baking tray.
Bake for five minutes at 200 degrees Celsius, then reduce the heat to 180 degrees and continue baking for a further 20 minutes – or until the pastry is golden brown.
Remove and place on a wire rack to cool.
Give it a Healthy Twist
To give a healthy twist to your traditional figolli, we suggest:
Swapping the flour for half all-purpose and half wholemeal
Substitute butter for a vegan substitute
Consider using a sugar substitute instead of cane sugar
Decorate!
Melt the chocolate over a pot of simmering water, bain-marie style and coat the cool figolla with it.
Add your own flair to your figolla, by experimenting with nuts like flaked almonds or ground peanuts.
Allow the chocolate covered figolla to cool and the melted chocolate to harden, serve and enjoy your healthy figolli!
Sources:
https://www.ilovefood.com.mt/recipes/figolli/