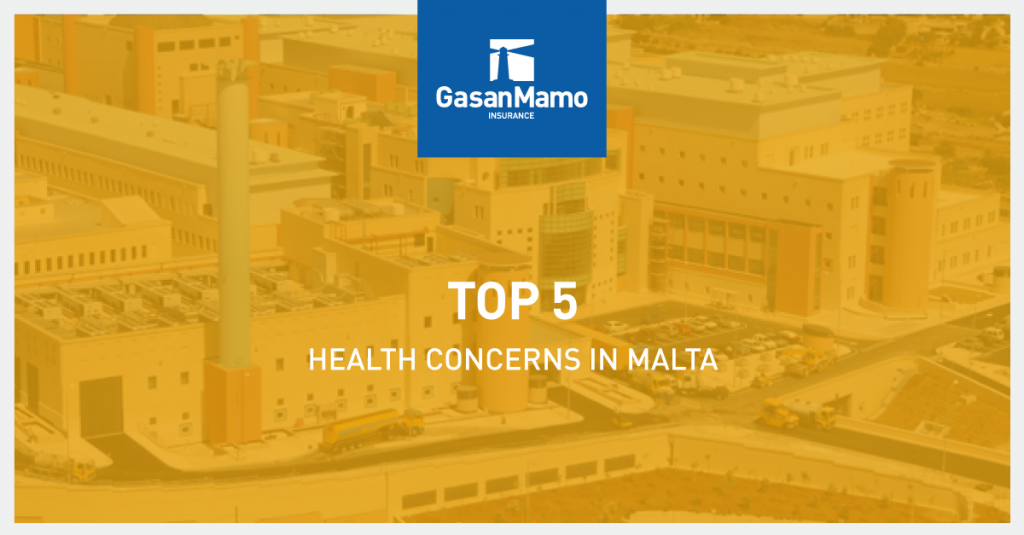 Your health is one of the most important things to look after. With our fast-paced modern lifestyles, sometimes we forget to take care of ourselves. With this in mind, we look at some of Malta's top health concerns, why they occur and what can be done to prevent or eradicate them.
Obesity
Malta ranks very high among European nations for its obesity levels, with childhood obesity being one of the highest in the world.
As well as the physical effects, there are many internal health concerns that are increased or enhanced due to obesity including diabetes, heart conditions, strokes and cancer. It is worth checking, if you suffer from obesity, ensure that your health insurance is up to date so that any illnesses or health concerns that occur due to being obese can be covered.
Although obesity can be prevented, there are some that inherit an overweight gene that contributes to obesity. Ways to combat obesity include exercise and a healthy diet. Many national campaigns have been put in place to tackle this national crisis. If it is not handled, health systems across Malta could be significantly overwhelmed with obesity-related illnesses.
Heart Disease
Ischaemic heart disease was once Malta's biggest killer. Since the early 2000s, the death rate for heart disease has decreased but that does not mean it isn't a health concern in Malta.
With a high amount of smokers and obesity levels, heart disease is still a threat across the nation. A healthy diet, low-stress levels, frequent exercise and reduced or no smoking or drinking can all help reduce your chances of heart disease.
If you think you are at risk of heart disease due to your lifestyle choices, it is worth investing in health insurance to make sure you are covered if the worst should happen.
Bronchial Asthma
Malta's climate was recently voted the best in the world which is great for tourism, the economy, lifestyles and business but unfortunately, Malta's climate can have adverse effects on the health of local people.
The hot and humid climate contributes to the high levels of bronchial asthma, as well as this, high levels of smokers and genetic dispositions play a role. Not smoking would reduce the chances of getting asthma as well as those around you.
Cancer
Breast cancer is the biggest killer of women in Malta. Other cancers with high death rates include uterine, pancreatic, cervical and ovarian. Lung cancer is also a big killer with high smoking levels contributing to this significantly. Due to the strong UV rays, skin cancer is always high on the agenda for health concerns in Malta.
With various cancers affecting many and the prognosis for recovery being small for many cancer types, reducing your chances of cancer is the best way to help tackle it. Healthy lifestyles have been proven to reduce the chance of getting cancer.
Although not avoidable, smoking, drinking, unhealthy diets, lack of exercise and too much sun exposure are all thought to contribute to different types of cancers.
Chronic/Non-Communicable Diseases
Non-communicable diseases are also a big health concern in Malta. Chronic or non-communicable diseases are long-lasting conditions that can be controlled but not cured.
If you are aware of a condition like this, you would need to ensure personal information is updated as it could affect any health insurance policy you take out. For example, if you suffer from epilepsy you would need to log this when applying for a driving licence.
Other examples of chronic or non-communicable diseases include diabetes, arthritis, viral diseases such as hepatitis C and HIV/AIDS. If you or someone you know has a health concern like this, it is worth ensuring you or they have health insurance in place and that information pertaining to it is up to date.
While Malta offers a wonderful lifestyle, it's essential to be aware of potential health risks and preventive measures. Prioritize regular check-ups, embrace a balanced diet, and stay active to safeguard your health.
At GasanMamo, we value your well-being and understand the importance of accessible healthcare. Our comprehensive health insurance offers the coverage you need to stay protected and have peace of mind about your medical needs.