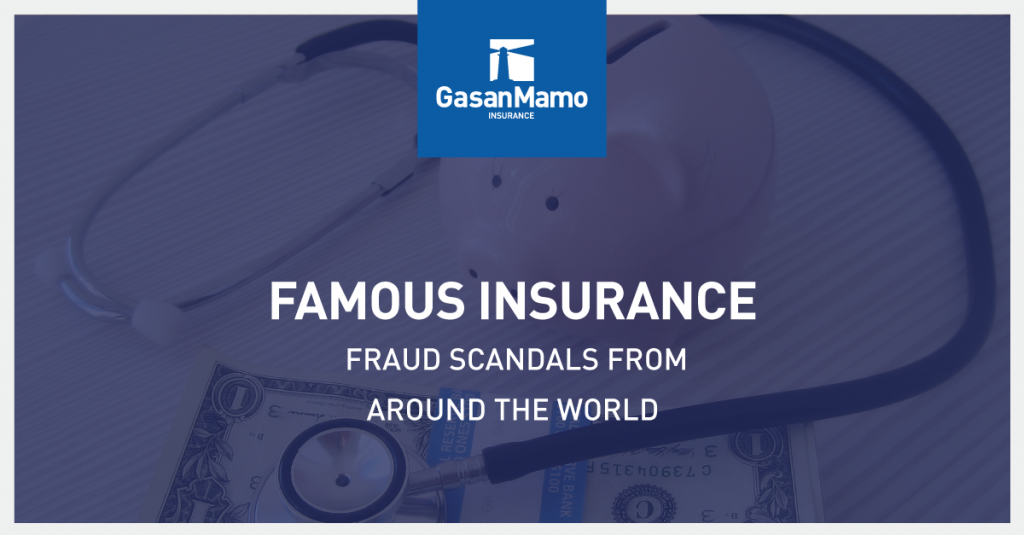 Whether it's home insurance, health insurance or business insurance, there have been many cases of insurance scandals, from small claims to big fraud. This week, we look into insurance scandals from around the world.
The Canoe Man
John Darwin, a former teacher and prison officer from the North East of England, faked his own death in an attempt to deceive his insurance company. His wife Anne was then able to claim the life insurance.
He faked his death by staging a canoeing accident in 2002 off the coast of Hartlepool. In 2006 his wife and Darwin went to Panama to set up a business under a fake name, where they planned to live out the rest of their lives. In 2007, a colleague of Anne Darwin raised alarm bells when overhearing a phone call between her and her husband.
Darwin returned to England from Panama, claiming he had no memory of the past five years despite photographs and official documents of his secret life with Anne being later found in Panama. In 2008 the couple were convicted of insurance fraud and both sentenced to just over 6 years in prison.
Woodbine Building Supply Co. Fire, Toronto
On Christmas Day 2001, the Woodbine Building Supply Company in Toronto was set on fire. The fire claimed the life of one man who was involved in the arson activity as well as leading to the evacuation of 50 homes near the store.
Company owner, John Magno, filed an insurance claim for $3.5 million. He was later convicted of fraud and found guilty of manslaughter as well as three counts of arson.
After the fire, the insurance claim was able to fund the 12-storey Carmelina Condominiums project, a 12-storey building made up of residential and retail units. The property is owned by JFC Construction, a company run by the three Magno brothers, including John and Frank, both known to be involved in the initial fraud attempt.
Horse Murder Insurance
Between the 1970's to the early 1990's, it was reported that expensive horses, including show jumpers, were insured against death and sickness so that owners could claim large sums on the horses that were murdered.
American multimillionaire widow Helen Brach mysteriously disappeared in 1977. It is presumed that she was murdered when she threatened to report the criminal activity surrounding the horse murders. She was never found.
In 1994, 35 people were convicted in connection with horse murders for insurance fraud, mail and wire fraud, animal cruelty, extortion and racketeering. Some 23 were charged in Chicago, with 20 of those pleading guilty.
Who Wants To Be a Millionaire?
Infamous cheat Charles Ingram first came to public attention when he won the British version of Who Wants to Be a Millionaire. He was investigated on suspicion of cheating following the show's airing. He was later found guilty of cheating using a coughing code with a member of the audience.
In addition to his conviction in relation to Who Wants to Be a Millionaire, Charles Ingram was also found guilty of a home insurance scandal. He claimed money on items that he claimed were burgled from his home. He was given a conditional discharge due to his financial situation and state of depression. Ingram and his wife Diana, who helped him to win Who Wants to be a Millionaire, both served 18 months in prison for their deceit in 2003.
Combined Insurance – Australia
Sales agents at the Australian arm of Combined Insurance (an American-owned company) targeted pensioners and the disabled throughout the 2000s by selling insurance that they would never be able to claim.
The agent in question had also been taking part in an activity called tomb-stoning, where agents working to get high commission would sign up deceased or made-up individuals and pay their initial premiums in order to gain commission on their bogus sale.
Other illegal practices at Combined Insurance included duping policyholders by misleading them to purchase insurance they were never able to claim against.
This fraudulent activity was brought to light when a whistleblower from the company reported it. It went undetected for years and was fuelled by the incentive of potential bonuses up for grabs at the company. Australian regulators were slow to move on the case too. However, it is now being investigated thoroughly in order for all involved to be penalised as appropriate.
At GasanMamo Insurance, we take these lessons from these insurance scandals to heart. Our commitment to our clients goes beyond mere transactions; it's a promise to uphold the highest standards of reliability and authenticity.