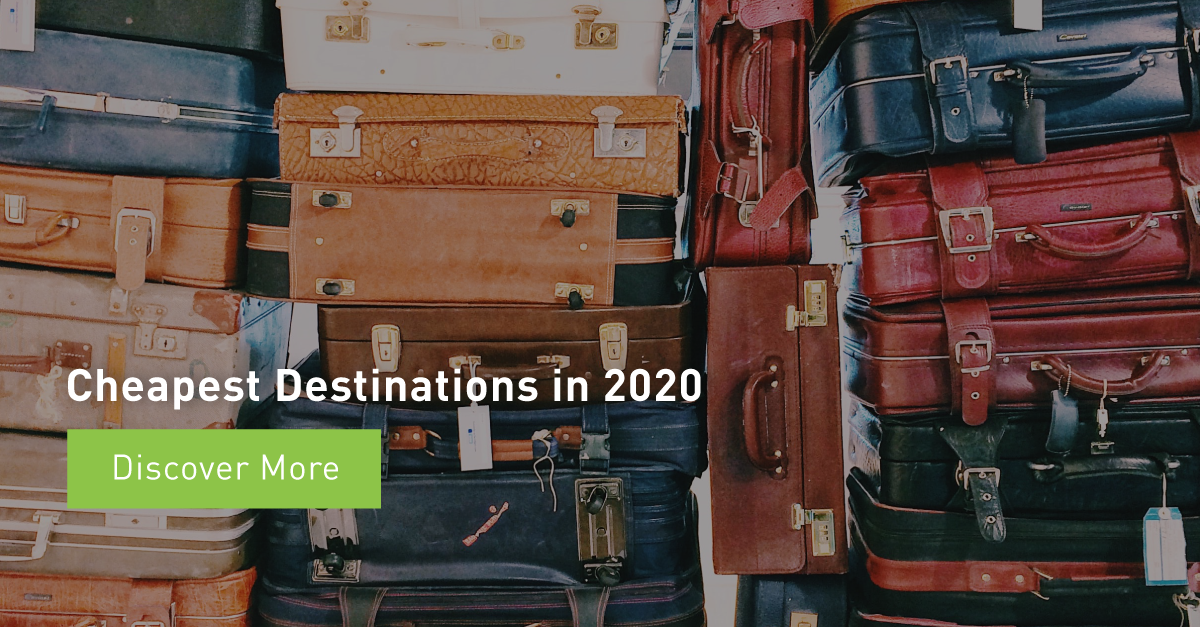 What drives us to fly around the world? It's like a craving that exists in all of us. It drives us further, and pushes us higher, while at the same time, setting us free. This leaves us with one option. Pick a place, buy a ticket, pack a bag, make a plan, and then, go again.

San Jose, Costa Rica
Central America as a whole has a lot to offer, whether you're into adventure sports like zip lining through the canopies, wildlife spotting or whether you're looking to kick back on the beach.

The key to stretching your dollar knowing how to navigate a country like this. Abundance of natural beauty, there are numerous luxury experiences on offer that are targeting people with overstuffed wallets. By skipping the tourist traps, you can experience all Costa Rica has to offer for much less.

Using public transport instead of a car will also be favourable for the budget-minded individual, seeing as you can get around for around $5 to $6 a day.

Doing a bit of research will also serve you well with respect to Accomodation at a reasonable amount of $30 to $45 a night for a hotel, and even better, $10 to $20 if you opt for a hostel.

The central market of San Jose is where you'll find everything you'll need. There is no shortage of options when it comes to finding places on the cheaper side, from restaurants known to the locals as sodas to stalls selling coffee beans, souvenirs, and local handcrafts.

Sofia, Bulgaria
Relatively unknown, and underappreciated Bulgaria is a land of numerous surprises for the curious traveller. From glittering treasures coming from ancient tombs, to vibrant boulevards, and and pristine beaches, this hidden gem in southeastern Europe will surely take your breath away.

Due to its coveted strategic position in the past, Bulgaria rests on layers of history. It is practically built around it's archeological sites.

Venturing to Sofia is also great for those travelling on a budget. Airbnb prices vary for anywhere from $15 to $35 a night. A luxury hotel that could cost over $500 in places like Amsterdam or Hong Kong might only cost $100 in Sofia.

Food is amazing in Sofia! Although you can find a vast array of different cuisines, from sushi to pizza, we would recommend indulging in the local traditional food. Local dishes tend to be wholefoods-based, with Turkish, Greek, and Arabic influences, and all at a fraction of the price you could pay. Visiting the weekend wholefood markets, you will find the food there cheaper than that which you would find in supermarkets. With Coffee costing Eur1 to Eur 2, breakfast up to Eur 7, and fancy meals costing as little as Eur20, what's not to love?
Taipei, Taiwan
Taipei is the Capital of Taiwan, a small country caught in a cultural intersection between China, and Japan. The city's magnetic personality, and unique vibe can convince anyone that it is ready to be the next top destination in Asia.

If you are on a tight budget, there are hostels, airbnbs, and mid-range hotels for you.

Getting around in Taipei can be very inexpensive, as the metro system is efficient, and easy to use, as opposed to renting a car.

Travellers have hundreds of options when it comes to food. Taiwan is the homeland of Din Tai Fung, which is one of the world's most acclaimed chain of restaurants. It is famous for its soup dumplings. Even though the dumplings at Din Tai Fung are somewhat expensive compared to typical Taiwan dumpling standards, it is also one of the cheapest places in the world with a Michelin star.

However, there is also the shilin night market which is a more affordable option for the budget-minded individual.

There are also numerous free world-class destinations like the district of beitou. You can also immerse yourself in the Buddhist way of life by visiting the longshan temple right at the heart of the city.

Final Thoughts
The world waits for no-one, and it is up to us to discover it's magnificent destinations. When you begin to experience the world, you start to change your world. So get going.

It may seem like an afterthought, but good travel insurance is vital to any good trip. Make sure it covers illness and accident, as well as the few downsides to travelling that we would like to forget. These include missed or delayed flights, lost luggage, or the all-important passport and phone.

So travel hassle free, and choose us for travel insurance.

GasanMamo Insurance Ltd. is authorised under the Insurance Business Act and regulated by the MFSA