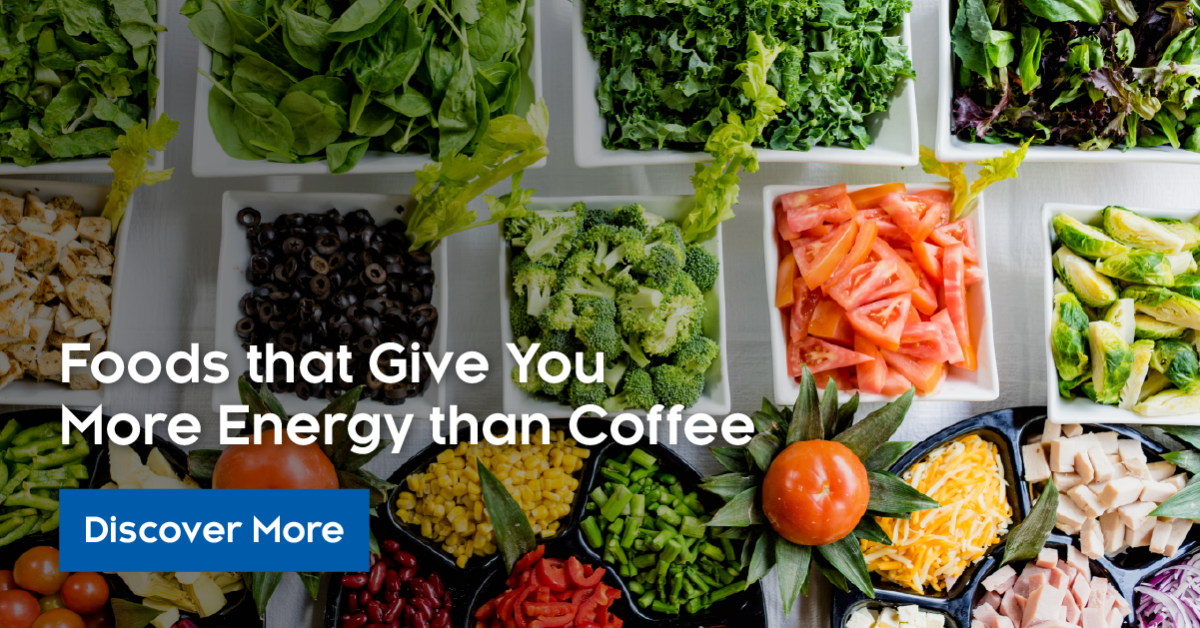 A lack of energy is said to hinder daily productivity levels as well as a good mood. Many people live off a warm cup of coffee or two to provide an energy boost throughout the day, without considering other high energy foods.
Coffee is tasty, comforting and uplifting. It's also thought to be helpful for losing weight. However, excessive caffeine consumption may result in feelings of anxiety, insomnia, muscle breakdown and other negative impacts. If you're the type of person who simply cannot cope without having at least a cup of coffee every day, it would be wise to start a caffeine cut down to improve your health.

But don't worry – feeling energetic is extremely important, especially if you're always on the go. That's why we've come up with a list of healthier substitutes for your endless cups of coffee. Here are the top 8 foods that give you more energy than coffee.

Hummus 
The health benefits of legumes are insanely immense. If you'd be up for a tasty snack that will not only give you lots of energy but also be low in calories, give hummus a try. Hummus is a mix of mashed or blended chickpeas, oils and seasoning that make for the perfect dip. This legume-based food is packed with carbs and fibre, which provide you with a lot of energy. You'll find it to be delicious to eat hummus with bite-sized pieces of carrots, celery, cucumber or crisps.

Bananas 
Bananas may be one of the best food for energy. Containing carbohydrates, potassium and Vitamin B6, this quick-to-eat food provide you with a lot of power throughout the day.

Eggs
It is believed that eating eggs in the morning is extremely good for you. The best topping on a piece of toast, otherwise known as the egg, is packed with protein. Protein is believed to provide a steady, sustained source of energy, given that it does not cause spikes in blood sugar and insulin when digested.
Dark Chocolate
As if we needed another reason why to love chocolate, we now know another one. Dark chocolate has a higher cocoa content than milk or white chocolate, and cocoa contains antioxidants, which are known to increase blood flow through the body. This, in turn, helps the delivery of oxygen to the brain and muscles – something that can be very effective during exercise. What's more, dark chocolate contains stimulatory compounds that are thought to be beneficial for enhancing mental energy and mood. 

Avocado
Avocados, also known as the superfood, are considered to be extremely healthy. They are rich in good fats, which have been shown to promote optimal blood fat levels and increase the absorption of nutrients. They can also be stored in the body and used as energy sources. Avocados are also rich in fibre, which accounts for 80% of their carbohydrate content which helps maintain steady energy levels. 

Seeds
Adding seeds to your daily meals is a great way of enriching your food with energising nutrients that are extremely good for your body. Seeds such as chia seeds, flaxseeds, pumpkin seeds, sunflower seeds and more could increase your energy levels – and you can easily add them to any meal, especially salads, soups and breakfast smoothie bowls. These seeds are generally high in plant-based omega-3 fatty acids that are a great source of energy for your cells to function.

Yoghurt 
Yoghurt is an excellent, nutrient-based dairy snack. Given that it contains carbohydrates which come in the form of simple sugars such as lactose and galactose, these sugars can provide sufficient energy to the body when broken down. What's more, the fantastic thing about yoghurt is that it's a light and tasty snack that can be eaten all throughout the day. Yoghurt also allows you to get creative and zing it up however you'd like by adding any fruit, seed or nut to it to make it taste better. 
Oatmeal 
Traditionally eaten for breakfast as the most important meal of the day, that's responsible for providing you with long-lasting energy, is oatmeal. This contains beta-glucan, a soluble fibre that forms a thick gel when combined with water. This gel delays stomach emptying and the absorption of glucose into the blood. Oats are also rich in vitamins and minerals that help the energy production process. These include B vitamins, iron and magnesium. The combination of all of these makes for a great source of food energy. 

Insure Your Health 
Maintaining good health by eating the right foods for you is extremely important. The benefits of these 8 high energy foods mentioned above are significant, especially when it comes to providing a long-lasting boost of energy.
Take care of your health not only by what you eat but also by securing yourself with a beneficial health insurance package. 

GasanMamo Insurance Ltd. is authorised under the Insurance Business Act and regulated by the MFSA