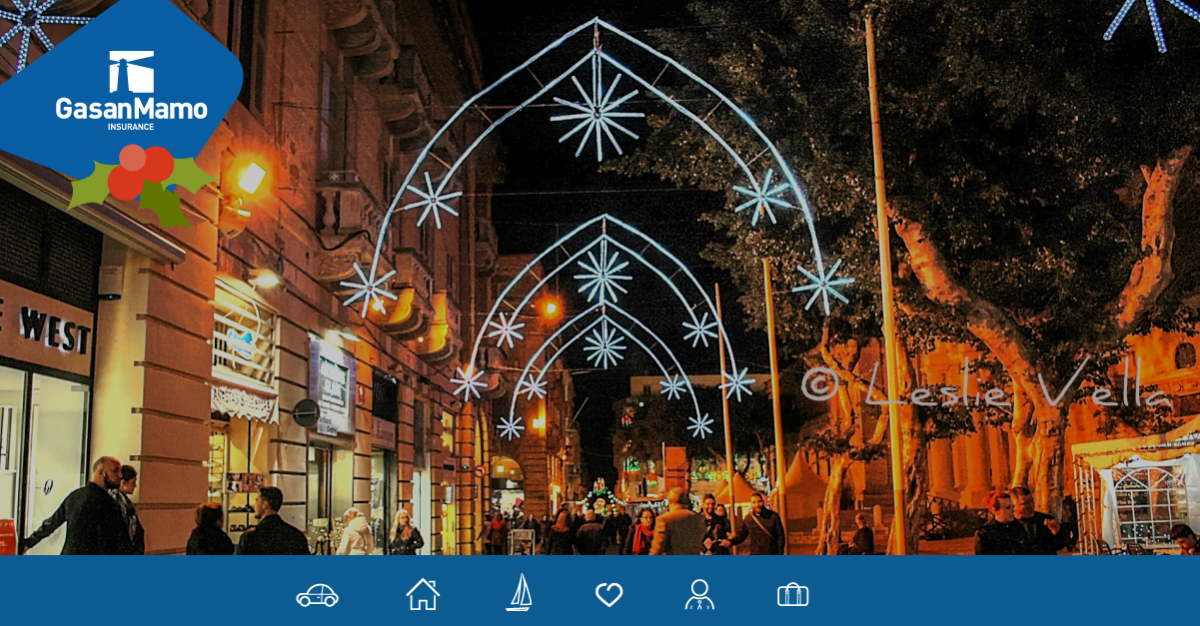 Having the Catholic religion as the predominant religion on the islands, Christmas is a greatly celebrated feast on the Maltese Islands. Christmas is closely intertwined with the social fabric of the locals and therefore, Christmas activities in Malta are a reflection of the socio-cultural lifestyle including religious ceremonies, historical milestones, cultural produce and the more modern lifestyle festivities.
Visit The Live Crib In Gozo
In Ghajnsielem, on the sister island of Gozo, some 150 locals gather and animate a live crib, bringing to life a reproduction of the Bethlehem environment of 2000 years ago.
Free to visit, there is a walk-in path where a map is given upon entrance leading to various attractions which are brought to life by local animators including the grotto with baby Jesus, Mary and Joseph. You'll also see a cow and donkey close by, a baker, a carpenter, a blacksmith, a crafts area and more.
In each dwelling, you can taste local wine and food, experience the production of local wooden crafts and take home souvenirs.
You can even book a night in one of the three rooms for rent within the 20,000 SQ meter crib. The crib is open from the 9th of December to the 3rd of January 2017
"Laugh Out Loud" Christmas Pantomime
Manoel Theatre will yet again host the annual Christmas Pantomime, this time a fun-packed feline fun show – Puss in Boots.
Organized by Masquerade, written by Malcolm Galea and Directed by Anthony Bezzina the action-packed show will run from the 23rd of December 2016 to the 8th of January 2017
Join a Christmas Eve Procession and Midnight Mass
Various villages around the islands of Malta and Gozo come to life by carol singing, children wearing historical costumes, life-sized figures of Infant baby Jesus, etc.
After the procession, one may attend the Christmas Eve midnight mass where as the tradition goes, a child delivers part of the sermon. A more recent trend is to visit one of the 5-star hotels or bars for an early 01:00 am Christmas Breakfast!
Classical Concert – Joseph Calleja
How about a classical concert performance by the well-renowned internationally-recognised local tenor Joseph Calleja?
Joseph's portfolio comprises discography that includes complete operas and concert repertoire, as well as five solo albums and has been described by the New Yorker as:
"Only one lyric tenor has the honeyed tone and ingratiating style to make comparisons to Pavarotti and Gigi seem serious, ..who is maturing as into an artist of first rank'.
Joseph Calleja together with the Malta Philharmonic Orchestra will perform a variety of popular classics at the Manoel Theatre. It will be in aid of the BOV Joseph Calleja Foundation to assist youngsters with gifted talents and those that find themselves in challenging situations.
This event will be held on the 7th December 2016 at 20:00.
Santa's Toy Town
Treasure the joy and magic of Christmas in Santa's Toy Town where you and your kids can meet Popeye and Santa this Christmas at the Popeye's Village.
It is a fun-filled family outing including a family treasure hunt, children's games, and activities.
Children will love meeting Santa's Helpers, a variety of animation shows, Silver Smith demonstrations, the mascot Christmas parade and Popeye's Comic Museum.
Whilst at Popeye Village, guests are also welcome to use the nine-hole mini-golf course, visit Santa and his elves house, see the crib and also laugh at the puppet show performance.
You can also just sit back and enjoy the view of the Santa's helpers preparing toys for Santa to deliver on Christmas Eve to children.
A Glass of Popeye Special Punch will add to the warmth of the traditional Christmas sparkle at Popeye's Village.
---
As we conclude our magical tour of Christmas activities in Malta, we hope you're filled with the holiday spirit and excitement for the festive season. From enchanting light displays to joyful Christmas markets, Malta offers an array of attractions to create treasured memories with loved ones.
Our comprehensive insurance coverage provides the peace of mind you need to enjoy the holidays to the fullest
Merry Christmas from the staff at Gasan Mamo Insurance. We look forward to hearing from you.